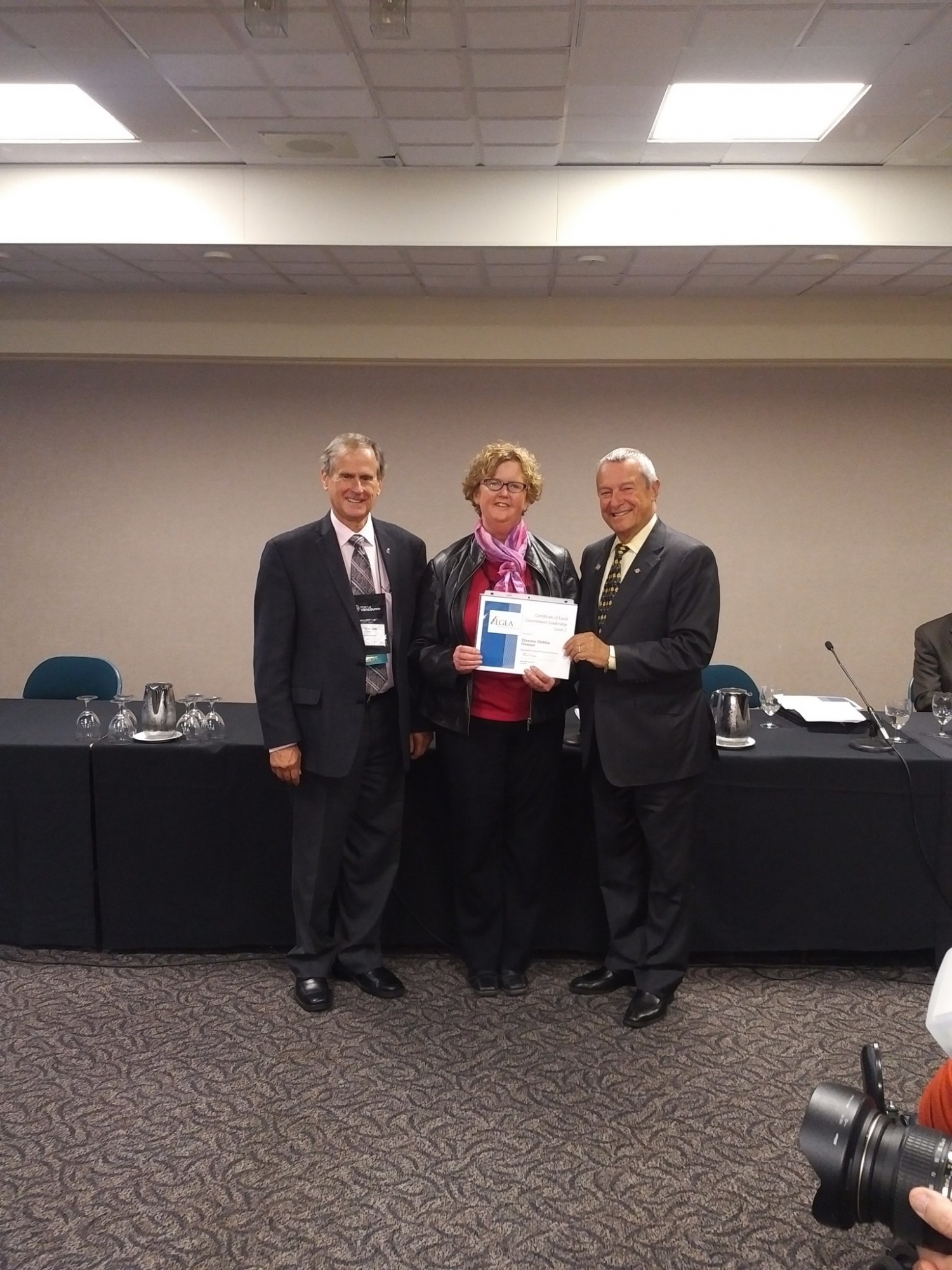 Photo: Al Richmond, UBCM President on the left and Peter Fassbender, Minister of Community, Sport, Cultural Development and Minister Responsible for Translink, on the right, present Director Debbie Demare, elected official for Area A, with her Level 2 LGLA certificate.
Director Demare received her Level 2 Local Government Leadership Academy (LGLA) certificate yesterday at the annual Union of British Columbian Municipalities (UBCM) Convention. 
The Local Government Leadership Academy is a leadership development initiative that serves local government and First Nations elected officials and senior administrators throughout the Province of British Columbia by improving the competencies needed to effectively manage and lead BC's communities.
It was started in 2005, after the 100th anniversary of the Union of BC Municipalities (UBCM), when it was identified that there was a lack of ongoing, coordinated and comprehensive support and training for local elected officials and senior administrators in British Columbia. 
The LGLA Certificate Program is designed to support and encourage elected officials to enhance their leadership skills and knowledge. It works similarly to professional development programs in most professions, where individuals track the workshops and courses they take. The LGLA and UBCM both offer learning opportunities.
"There are a lot of things to learn when you're elected," says Director Demare, acknowledging that there is usually a gap between the skills you bring to the community when you're running for office, and the skills you need once you're elected. "I get a little bit of personal satisfaction from the pursuit of the certification," says Demare, "but I also think it demonstrates how committed many people in local government are to learning. I think people might be surprised to learn how much there is to know once you're elected." 
Director Demare recalls the LGLA's training program for newly elected officials as incredibly valuable. "I'd encourage any newly elected official to attend."