Affected Communities:
Electoral Area C, Village of Pemberton
On the weekend of June 3 and 4, dozens of scientists and naturalists descended on the Pemberton Valley for a combined BioBlitz and Breeding Bird Survey (BBS).
Approximately 60 scientists came to Pemberton for Saturday's BioBlitz and spent the day combing Riverside Wetlands / Ském'em Community Park, Mosquito Lake, and the dry slopes east of town for all kinds of species, from mammals and plants to fungi and insects. Preliminary results show that approximately 600 species were documented, many of which have not been recorded before for the area.
The BioBlitz was timed to coincide with the Whistler-Pemberton BBS to help recognize 40(ish) years of incredible effort by the six experts who have made it happen. Our BBS is one of the oldest in North America and helps track population and nesting trends of birds over many years. For almost 20 of those years, the BBS has included a public birding event the day before Sunday's formal survey. This year saw an especially large contingent of birders join the BBS experts. The combined effort resulted in 82 species of birds being recorded over the weekend. 
What is a BioBlitz?
A BioBlitz is a 24-hour "race against the clock" to count as many species as possible - mammals, birds, plants, frogs, fish, bugs... you name it. The concept was created by Harvard biodiversity icon E.O. Wilson, and since its creation, annual BioBlitz events have spread across North America. The Whistler Naturalists held the first BioBlitz in our region in 2007. A couple of years ago, the concept was expanded to include Pemberton and Squamish. 
BioBlitzes strive to achieve two goals: 
To increase public appreciation for biodiversity, and
To increase our knowledge of all of the species that share the areas where we live.
Photos from this year's event: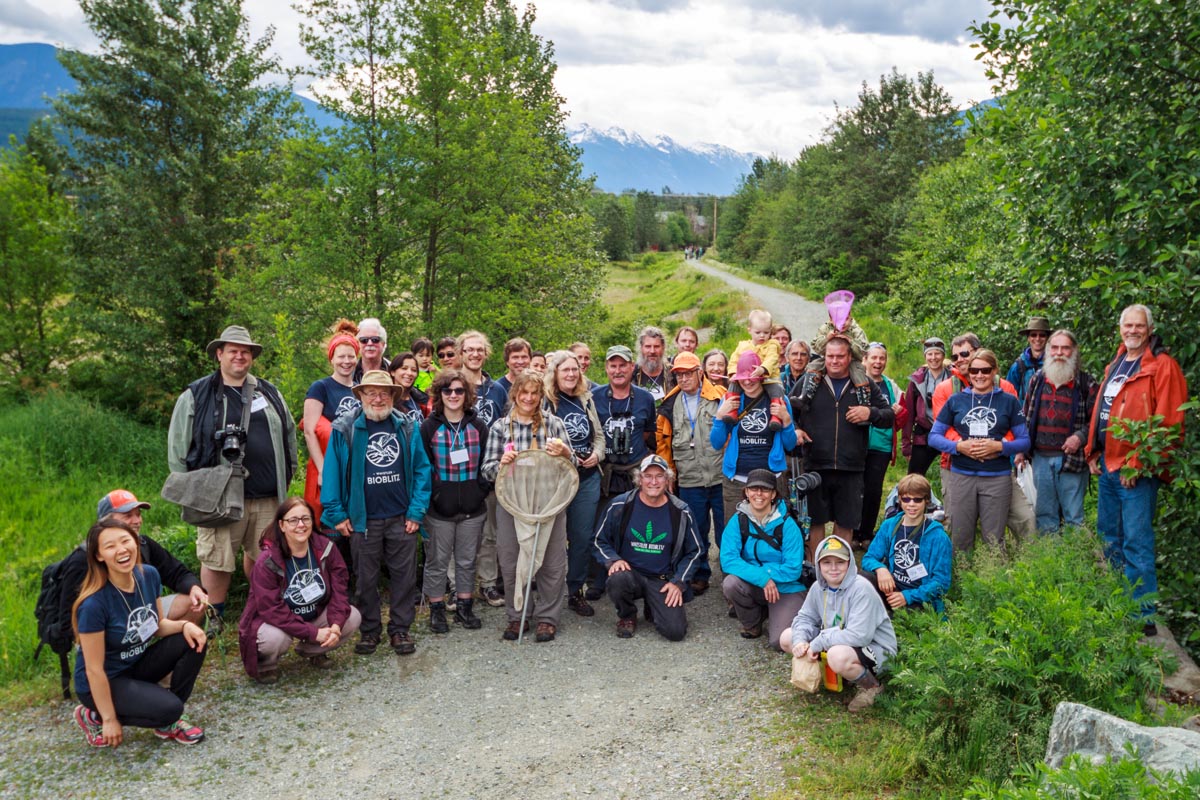 The team. Photo: Joern Rohde
Bioblitz Welcome Ceremony with Lois, Mhelan Joseph and Lex Joseph. Photo: Bob Brett
Scientist Jordan Rosenfeld with two Junior Scientists, Adam Brett and McLaughlin. Photo: Kristina Swerhun
Photo: Joern Rohde
Photo: Joern Rohde
Photo: Joern Rohde
Thank you!
Thank you to the Whistler Naturalists' Society, Stewardship Pemberton, the Community Foundation of Whistler, and everyone who participated in the 2017 Bioblitz events. The SLRD is proud to be a part of Canada's longest-running BioBlitz. See you in 2018!