NEW: Weekly Curbside organics collection from May 12 to September 30
The Squamish-Lillooet Regional District provides curbside collection services to the communities of Furry Creek and Britannia Beach through GFL (formerly Carney's Waste Systems). Garbage, recycling and organics collection alternates weekly. Be Bear Smart with these simple tips to manage waste in bear country.
Yard Waste
The Squamish landfill also accepts large branches and yard waste. More info on tipping fees and business hours: www.squamish.ca/our-services/garbage-and-waste-diversion/landfill
If you have any questions or concerns, please call us at 604-894-6371 or email utilities@slrd.bc.ca
Organics curbside collection: Accepted and not accepted materials:
Collection Schedule and Electronic Reminder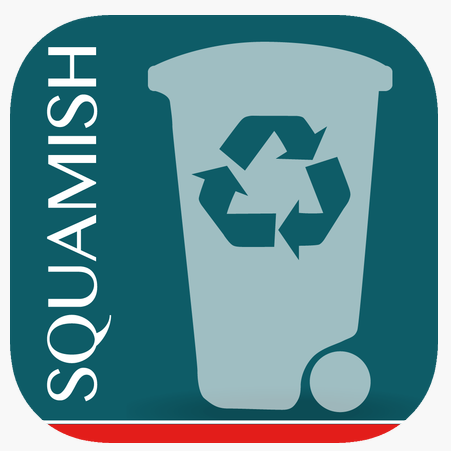 Never miss another collection day! Get a free reminder email, app notification, or phone call!
Just CLICK HERE, enter your address, and click on 'Get a reminder!'
Or download the app for your phone: Get collection day reminders and look up where to recycle what with the Waste Wizard search included in the app.  
Curbside Recycling Guide
Note that PLASTIC BAGS , OVERWRAP & GLASS are NOT ACCEPTED in your Recycling Tote.
For a detailed list of what goes where download the District of Squamish Recycling Chart or the What Goes Where Recycling Guide for Squamish. 

Request a Tote
The standard size of the recycling and garbage totes is 65 gallons. Larger totes are available by contacting  GFL (formerly Carney's Waste Systems) at 604-892-5604 or squamish@gflenv.com
Upgrades to larger recycling totes (95 gallons) is paid for by the service; however, upgrades to larger garbage totes will be billed directly by GFL to the customer. Smaller totes (35 gallons) are also available to customers with limited storage space or those with minimal garbage and/or recycling collection requirements.
Request a Tote Repair or Replacement
To request that a damaged or broken tote be repaired or replaced please contact GFL at 604-892-5604.
GFL will repair or replace a damaged tote at their cost during the tote's next service date. Next day repair or replacement is available at a cost of $65 to the homeowner. 
  
SLRD Bylaw Enforcement and Wildlife Attractant Violation Fines
The SLRD has a Wildlife Attractant Bylaw that covers all Electoral Areas in the SLRD, including Furry Creek and Brittannia Beach, with the intent to regulate proper management of wildlife attractants and to offer enforcement tools to help reduce wildlife incidents while maintaining public safety.The SLRD Bylaw officer is actively persuing ongoing unsecured wildlife attracts and will be issuing infractions fines.
PLEASE NOTE: Maximum fine of up to $500 per occurance. See the full infraction fine list here.
Please report unsecured attractants to the SLRD: bylawenforcement@slrd.bc.ca or by calling 604-894-6371 (Toll-free: 1-800-298-7753).