The Squamish-Lillooet Regional District provides curbside collection services to the communities of Furry Creek and Britannia Beach through GFL. Garbage, recycling and organics collection alternates weekly. 
The following information is detailed below:
Accepted in the curbside organics tote:
Leaves, grass clippings, hedge trimmings
Small branches less than 3" in diameter and short enough to fit in the green bin with the lid closed.
Yard waste bins are made available to the communities of Britannia Beach and Furry Creek in the Spring and Fall. Formore information email utilities@slrd.bc.ca.
No yard waste is to be deposited at any location if no yard waste bin is present. The SLRD provides yard waste bins in the spring and fall annually. 
The Squamish landfill accepts large branches and yard waste. More info on tipping fees and business hours: www.squamish.ca/our-services/garbage-and-waste-diversion/landfill
All garbage, recycling and organics totes need to be accessible to the collector between the hours of 6 am and 5 pm on the specific collection days. Leave 1 meter clearance around your tote and between totes to ensure the collection vehicle can access it.
Organics are collected first, between 6 am and 12 pm, with garbage or recycling collected in the afternoon. Please leave your totes out until 5 pm or until emptied.
Never miss another collection day!
Get a free reminder email, app notification, or phone call!
Just CLICK HERE, enter your address, and click on 'Get a reminder!'
Or download the app for your phone: Get collection day reminders and look up where to recycle what with the Waste Wizard search included in the app.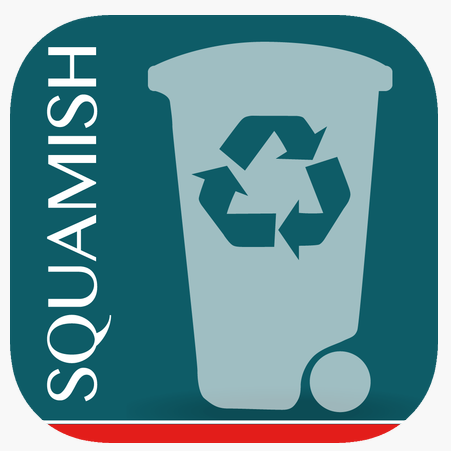 Accepted Materials:
*Foam packaging, glass jars & bottles and flexible plastics are only accepted at depots. Use Waste Wizard for locations.
For a detailed list of what goes where download the District of Squamish's Waste Diversion webpage or the What Goes Where Recycling Guide for Squamish. 

What is contamination and why does it matter?
Material that is not accepted for collection in curbside and multi-family collection programs is referred to collectively as Incompatible Material or "contamination".
Items that are not packaging or paper
Items not accepted in the Recycle BC program (not recyclable or does not have viable end-markets i.e. multi-layered paper and plastic shipping envelopes).
Dirty/un-rinsed items (i.e. plastic jar with peanut butter inside)
Items that are only accepted by the Recycle BC program when collected depots (i.e. foam packaging and plastic bags)
27.7% of the items observed in the last Recycle BC audit did not belong in the curbside tote:
Items that are not accepted in the Recycle BC Program 16.4%
Items that can only be recycled when dropped off at a depot or dirty/unrinsed items 11.3%
Top contaminants
Glass
Durable plastic products
Books
Scrap metal
Flexible plastics
Foam packaging
Why is reducing contamination important?
By reducing the number of items that do not belong in the curbside totes, residents are ensuring recycle the collected material can effectively be recycled:
Contamination presents significant operational difficulties, such as when plastic bags tangles in automated machinery used to sort items.
Contamination reduces the recyclability of the collected material
Contamination reduces the commodity value of the recyclables and reduces the ability to meet the requirements of local and foreign markets.
Even small levels of contamination can cause entire shipments of recyclables to be rejected.
What is hazardous material?
Hazardous material is an item that can be dangerous and can cause truck fires, facility fires and serious safety problems for staff. Items such as propane, butane cylinders, electronics, batteries and lighter fluid containers should never be placed in the curbside tote.
33% of the audits in 2022 contained hazardous material.
The Squamish Landfill accepted Household Hazardous Waste, use the Waste Wizard for more information on what is accepted.
How does Recycle BC measure contamination rates?
Recycle BC routinely conducts composition audits on the material received from collectors.
A collection vehicle is selected,
the material is unloaded in a specific area,
the load is mixed and a cross-section is packed in a Super Sack,
this process is repeated until the sample is roughly 100kg,
staff then categorize the material from the sample; and
the results are then provided to the collectors.
What goes in:
Meat, fish, bones
Food soiled paper (napkins, pizza boxes, paper bags)
Fruit & vegetable scraps
Food leftovers, plate scrapings
Dairy products
Eggshells
Bread, cereal, grains
Baked goods, candies, herbs and spices
Coffee filters, grounds
Nuts and shells
Paper tea bags (can you rip it?)
Solidified fats and grease
Houseplants, cuts and dried flowers
Leaves, grass clippings, hedge trimmings
Small branches less than 3" in diameter and short enough to fit in the green bin with the lid closed.
 
What stays out:
Packaging (recycle)
Plastic or compostable utensils (garbage)
Plastic or compostable take-out containers (garbage)
Plastic or compostable cups (garbage)
Invasive species (bag and garbage)
Pet waste (garbage)
Stickers (garbage)
Diapers and baby wipes (garbage)
Sanitary hygiene products (garbage)
Soil and rocks* 
Clean wood waste*
Large amounts of sawdust, wood chips and shavings*

For more organic collection tips and tricks visit slrd.bc.ca/makesoilnotwaste
Both, Britannia Beach and Furry Creek, communities have a drop-off location for clean glass jars and bottles.
Britannia Beach Glass Depot Pilot Project Extended to Year- Round Program
The Squamish-Lillooet Regional District (SLRD) is pleased to announce that the Britannia Beach glass depot pilot project has been extended.
The project initially ran from June 30 until September 28, 2021 as a pilot project, and was so successful that it will continue.
This is a great opportunity for the community to divert some of the glass waste currently going to the landfill.
Glass accounts for 8.2% per cent of the Britannia Beach waste currently being sent to the landfill (compared to 3.5% of the waste coming from Squamish).
Please note the following;
Glass containers must be clean
Totes/ bins should only be used for glass bottles and jars
No glassware, window glass, or mirrors (whether broken or whole) permitted
Area around the bins should be kept clean and litter free
Please remove the lids (these can go in the blue bin)
News Release: Britannia Beach Glass Depot Pilot Project Extended | Squamish-Lillooet Regional District (slrd.bc.ca)
For more information, contact:
SLRD Utilities and Services department
utilities@slrd.bc.ca
The standard size of the recycling and garbage totes is 65 gallons. Larger totes are available by contacting  GFL at 604-892-5604 or squamishtotes@gflenv.com
Upgrades to larger recycling totes (95 gallons) is paid for by the service; however, upgrades to larger garbage totes will be billed directly by GFL to the customer. Smaller totes (35 gallons) are also available to customers with limited storage space or those with minimal garbage and/or recycling collection requirements.
Request a Tote Repair or Replacement
To request that a damaged or broken tote be repaired or replaced please contact GFL at 604-892-5604.
GFL will repair or replace a damaged tote at their cost during the tote's next service date. Next day repair or replacement is available at a cost of $65 to the homeowner. 
  
Recycling, organics & landfill waste containers may only be placed at the curb between 6 am - 7 pm on your collection day and must be stored in a Wildlife Resistant Enclosure (e.g. garage) until the scheduled pickup. 
The SLRD has a Wildlife Attractant Bylaw that covers all Electoral Areas in the SLRD, including Furry Creek and Brittannia Beach, with the intent to regulate proper management of wildlife attractants and to offer enforcement tools to help reduce wildlife incidents while maintaining public safety.The SLRD Bylaw officer is actively persuing ongoing unsecured wildlife attracts and will be issuing infractions fines.
PLEASE NOTE: Maximum fine of up to $500 per occurance. See the full infraction fine list here.
Please report unsecured attractants to the SLRD: bylawenforcement@slrd.bc.ca or by calling 604-894-6371 (Toll-free: 1-800-298-7753).
If you have any questions or concerns, please call us at 604-894-6371 or email utilities@slrd.bc.ca
PowerPoint Presentation - Community Meeting May 29, 2019
Community Meeting Summary - May 29, 2019