The 'Zero Waste' approach has been adopted as a guiding principle in the Squamish-Lillooet Regional District's Solid Waste and Resource Management Plan.
The SLRD's goal is to reduce waste per person to 350 kg per year. We have seen great progress since 2015! In 2019 the SLRD recorded 434 kg per person per year.
The following information is detailed below:
2020 Waste Composition Audit
In 2020, the SLRD conducted a Waste Composition Audit at the Pemberton Transfer Station, the Lillooet Landfill & Recycle Centre, as well as the waste collected curbside in Britannia Beach and Furry Creek. To put it simply, a hired crew sorted trash from these communities to get a better understanding of what is being sent to the landfill.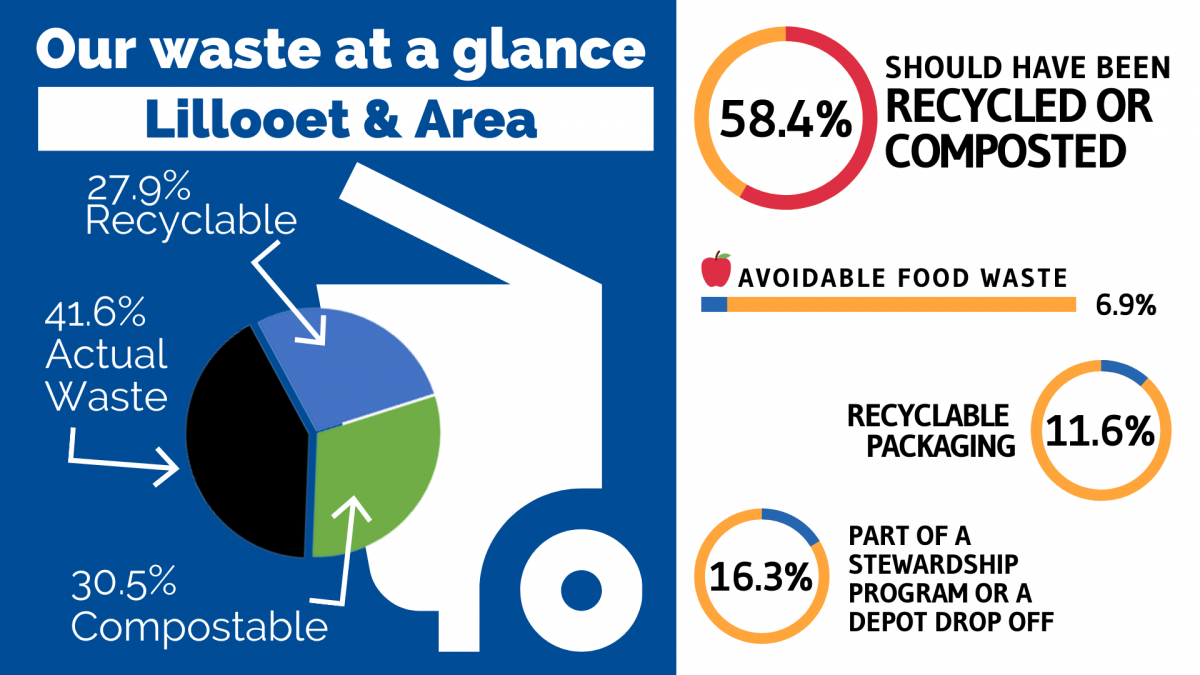 Single-Use Items in the SLRD
Single-use items (SUI) refer to plastic products that are considered disposable and only used once before they are recycled or thrown away. This includes plastic bags, straws, utensils, take-out containers, cups, styrofoam containers and more. 
The practice of using a plastic or foam item once or a couple of times is an unsustainable practice that has large environmental and financial impacts, at a cost to taxpayers. The waste composition audit undertaken in 2020 took the volume of these items being sent to landfill in the region into consideration. How much of our waste is comprised of SUI's? 
For the samples from Lillooet Landfill & Pemberton Transfer Station SUIs represented approximately 2% of the waste stream. 
For the samples from the Britannia Beach and Furry Creek Curbside Collection SUIs represented approximately 2.9% of the waste stream.
What you can do to help us reach our goal and divert waste from the landfill
The results highlight how we need to collectively:
Circular Economy
Let's design out waste!
Old model: Extraction -> Manufacturing -> Disposal which is finite and causes environmental degradation.
By introducing a circular model as a way of thinking of the economy we can start tying loose ends.
"It's a new way to design, make and use things within planetary boundaries.
Design out waste and pollution. Keep products and materials in use." Ellen Macarthur Foundation
Follow us on our Zero in on Waste SLRD Facebook page for everything Zero Waste from tips and tricks to local events.
Other Resources: