For most of us, our best holiday memories include family, friends, love and laughter - not piles of plastic, paper, and food waste. 
Merry Memory Maker from Metro Vancouver
Celebrate with Less Waste
Check out some great waste-free gift ideas, zero waste gift wrapping, and useful waste reduction tips to keep your waste footprint in check all year long (courtesy of Metro Vancouver).  Small choices make a big impact and remember, the best present is your presence.
Gift Ideas
Edible Gifts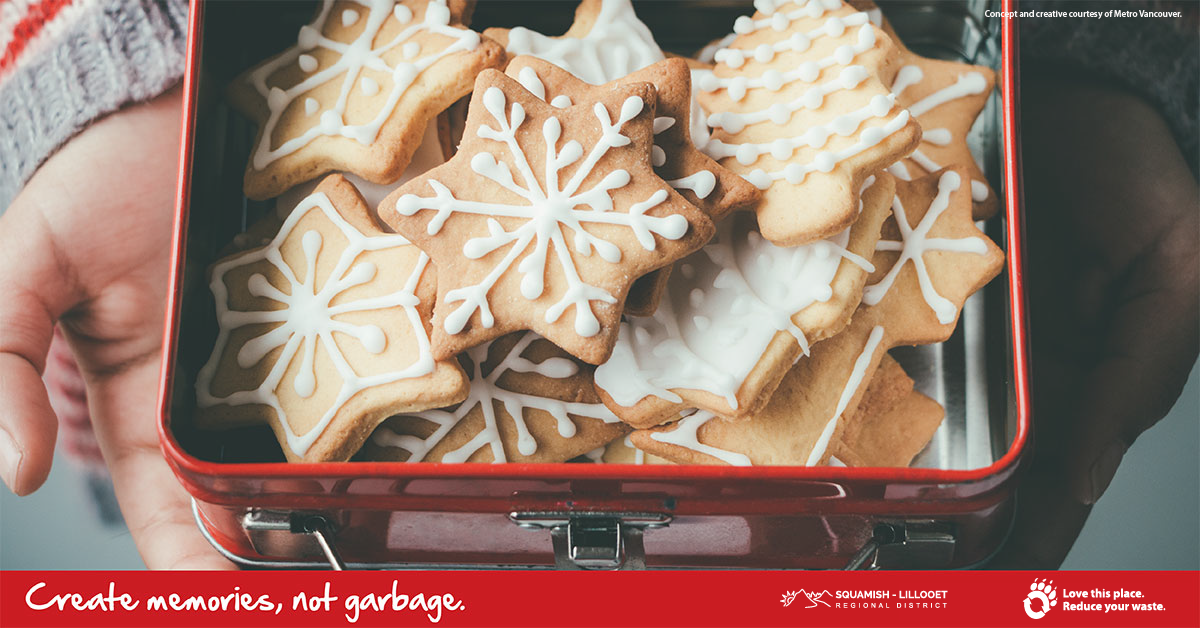 A great zero waste option. Get the family together to whip up something special and make it an annual tradition. From cookies, to jam, to sauerkraut, to granola or even specialty teas – the options are endless. Check out some wrap wise ideas courtesy of Metro Vancouver.
Emergency Kit
Nothing says "I Love You" more than an emergency kit. Having supplies in your home and vehicle is essential to keeping your family safe in emergencies. Check out the Government of Canada's Emergency Kits page for tips. 
Offer your time.
What can be more thoughtful than offering your time? Whether it's babysitting, walking a pet, or washing someone's car, the gift of time never goes out of style. Create a custom coupon here.
Share a book
Re-gifting a book is a great way to share that experience with someone special while ensuring it continues to do more than just collect dust on a bookshelf.
Wrap it Waste-Wise
Jars
Reusable containers like mason, soup, jam or pasta jars make great containers for edible holiday gifts. Check out another Metro Vancouver waste reduction campaign Love Food, Hate Waste for more great tips how to store food and make it last longer. 
Calendar wrap
Re-use outdated calendars and add colourful pictures and art to your gifts.
Food and Decorating
Borrow from Nature
Look no further than your park yard or neighbourhood park for your holiday decorations. Pinecones, branches, leaves, and twigs make for beautiful wreaths and centerpieces. An easy, waste free idea that smells great too.
Love Food, Hate Waste
Find tips on how to reduce food waste before you create it; great recipes for your leftovers and keep more money in your pocket while you do it.
Entertain in Green
Skip the disposables destined for trash and opt in for reusable items for your holiday feasts.
Choose cloth napkins over paper.
Use reusable containers for leftovers instead of plastic wrap, foil and disposable plates and trays.
Suggest guest bring their own re-useable containers to take leftovers home with them.
Remember to compost any unusable food scraps.
This holiday season celebrate with less waste and create memories, not garbage.
Create memories, not garbage concept and creative courtesy of Metro Vancouver.